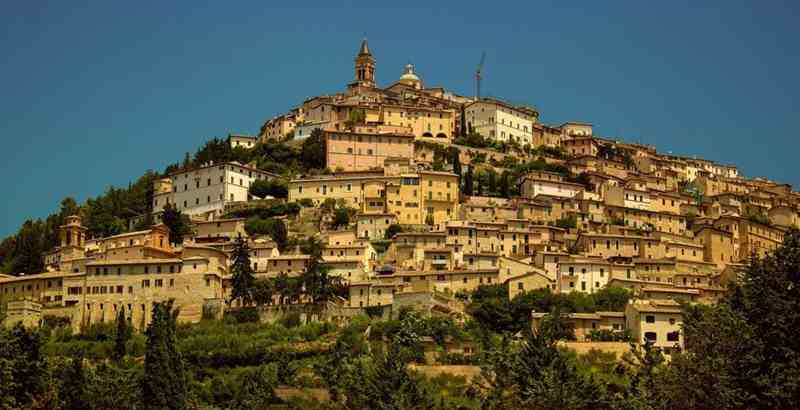 Perugia Tourist Attractions
Perugia, well known for its famous Priori Palace that houses Umbria's National Art Collection, and the lovely Fontana Maggiore in the city centre, is one of Italy's most popular city destinations. There is so much to see in Perugia itself and in the neighbouring cities, for example Assisi, Bevagna, Gubbio, Foligno, Montepulciano, Montefalco, Norcia, Todi and San Benedetto del Tronto, that it's a good idea to occasionally join a guided tour rather than explore without an expert.
Montefalco-Bevagna Wine Tasting Tour
Located some 11 km south-west of Foligno and 9 km north-west of Trevi, the small town of Montefalco is in the heart of the Perugia province, and well-known for its wine-production. Sitting high on an outcrop above the Clitunno River, the town is close to several important wineries in the area. The San Francesco Museum, housed in a former Roman Catholic church, is a good first start to learn more about the wines and art of the area. It is open from 10.30 hours to 18.00 hours every day and located in Via Ringhiera Umbra. Also worth visiting on a guided tour that allows a little leisure time are San Fortunato church, which houses frescoes by Gozzoli (Child and Saints, 1450) and Tiberio d'Assisi (in the Cappella delle Rose, 1512), and the lovely 13th century Town Hall with its 15th century portal. Bevagna is well known for the Palazzo dei Consoli (1270) with its mullioned windows. It has been home to the F. Torti theatre since 1886, which was decorated by Mariano Piervittori and Domenico Bruschi. Wine tourists can enjoy visits to wine cellars locally that include a tasting, costing around 20 euros per person.
Perugia 2-Hour Walking Tour
Historic Perugia is divided into some 5 districts, into which ancient gates allow access. Porta Eburnea, Porta San Pietro, Porta Sant'Angelo, Porta Santa Susanna and Porta Sole are all distinctive, each very different from the other. The "porta" allows passage into the medieval walled city. Depending on the tour you choose, you can either just get a first impression and see the Piazza IV Novembre, the Fontana Maggiore and Duomo, or go on an in-depth tour that lasts a full day. The many layers of the Rocca Paolina, a Renaissance fortress built between 1540 and 1543 for Pope Paul III at Piazza Italia is one of Perugia's most fascinating places to visit. It has several entrances, and had at least five floors when it was first designed by Antonio da Sangallo il Giovane. Porta Sole, which carries the symbol of the sun, leads into the eastern part of the city. Porta San Pietro leads into the south-eastern part, usually referred to as the beautiful district, because it was filled with Benedictine and Dominican monastic buildings. The meeting point for the 2-hour tour is at Piazza Italia in front of the Bata Shoe Shop at the start of Corso Vannucci, the main street leading through the historic city center.
Cascia, Narcia and Marmore Waterfalls Tour Full Day Tour
Located ca 21 km from Norcia along the road to Rieti in the Lazio, the town of Cascia overlooks the Corno River. Founded during Roman times, Cascia is perhaps most famous for being the birthplace of Saint Rita, who was born there in 1381. A shrine still honours her memory in the Basilica of Santa Rita da Cascia. The town is an important stop-over for pilgrims, as her former home is also still in existence. 14th century Sant' Antonio Abate Church is equally worth seeing on a guided tour, it has lovely frescoes. Norcia lies in the southeast of Umbria, on the edge of Sibillini National Park. Known for its wonderful cuisine, the town boasts many fine examples of 17th and 18th century architecture. The finest, and oldest, buildings flank the main square in the heart of the town. Castellina, a giant fortress designed by Vignola in 1554, houses the Museo Civico e Diocesano, the civil and church museum of Norcia. Sibilline National Park boasts several peaks with more than 2,000 metres. This is a great area for hiking and mule-trekking in summer, and skying in winter. Spectacular gorges and caves attract many climbers in summer too. Black truffles, the famous Sibillini Mountain hog ham, and the man-made Roman waterfalls of Marmore make this a fantastic tour that starts from your hotel.
Assisi and Perugia Day Tour with Chocolate Tasting
The birthplace of Saint Francis, Assisi, lies some 30 km distance from Perugia. Born in 1181, the Saint died in 1226, and is one of Italy's patron saints. The Basilica of St Francis, a huge church at the heart of Assisi, was already consecrated in 1253, and is decorated with 13th century frescoes that depict scenes from the Saint's life. St Francis's stone sarcophagus is actually housed in the crypt. Two medieval castles dominate the town, Rocca Maggiore and Rocca Minore, which lies to the right of the larger castle on a hill overlooking the town. The two fortresses are linked by a long wall, under which a secret pathway runs. Other sights include the Temple of Minerva in the Piazza del Comune, and a Roman amphitheater that dates to the 1st century AD. The 12-hour tour also includes many Etruscan ruins, and a chocolate tasting in Perugia. The tour is available from Florence, where it starts at Stazione Leopolda in Viale Fratelli Rosselli.
Full Day Tour of Orvieto and Todi from Perugia
The small city of Orvieto is about 77 km distance from Perugia via the SS3 and SS448 bus routes. Sitting on a rock cliff, the city offers plenty of cultural attractions, despite its small size. There is the 13th century Duomo di Orvieto with its lovely mosaic facade, where a marble version of the Pietà sculpture is housed, then there is an underground cave network with some 1,200 caves, and the wonderful National Archaeological Museum that displays many finds from the area. Around 248 steps lead down a spiral staircase to the Pozzo di San Patrizo well, built between 1527 and 1537. And if you like opera, there's the Museo dell'Opera del Duomo di Orvieto at Piazza del Duomo, 26, which opens daily. Todi is another hilltop town. Filled with medieval buildings, especially around the central Piazza del Popolo, the town has around 17,000 residents today, but was already a settlement during ancient Roman times, as evidenced by two Roman cisterns below the Piazza del Popolo. The Gothic Cathedral with its lovely rose window is one of Umbria's most impressive.
UNBEATABLE VALUE CAR RENTAL

FREE
Amendments,
FREE
Cancellations,
NO
card fees!

airport_shuttle Need Airport Transfers?
Useful Information about Perugia Airport