Perugia Airport Departures (PEG)
Not all flights may be showing. If not available use search above to find your flight by airline, airport or flight number.
Destination
Airline
Flight no.
Scheduled
Est./Actual
Status
Brindisi (BDS)
Ryanair
FR921
09:05
Scheduled
No flight departures were found at Perugia Airport.
Flight Departures at Perugia Airport
Umbria's principal airport connects the region with Brussels, Catania, London, Malta and Tirana via airlines Ryanair, Albawings and blue-express. The single terminal airport provides passengers with an efficient and quick way to check in just 40 minutes in advance of departure, although passengers with luggage should leave a bit more time, as they must present themselves to the acceptance desk first to get a luggage sticker.
Check-in requires valid travel documents like ID cards or passports and the boarding pass. Ryanair passengers who plan to fly through international air spaces and who are not EU citizens must present themselves at a visa check desk, where their boarding pass will be stamped prior to security control.
Perugia Airport departure passengers must show security control staff any bags containing liquids, before they can pass through control. Coats and jackets should be taken off, as advised, and netbooks, laptops and other electronic devices should be presented separately from hand- or other luggage. Metal objects and personal effects such as belts, billfolds, coins and watches, should be put into the container provided by security control staff and passed through the x-ray machine. Passengers are then free to walk through the Metal Detector frame.
The car rental desks are located between check-in and Arrivals, so it's easy to return keys and documents. ATM banking, a bar and restaurant, a newsagents and tobacconist and two fashion outlets, a ladies' and a men's outfitters, are also present at the terminal. Toilets can be found in the Departure and Arrivals areas.
Getting to Perugia Airport
The city of Perugia is located just 12 km from the airport, Assisi is just a 35 minute drive away via the SP248 route. There are 400 parking spaces available at the airport, all within a short walk of the terminal. The parking area is open from 6.00 in the morning to 23.00 hours at night. The first day of parking costs 11.00 euros, as does the second day. From day three onwards parking costs just 7.00 euros, from day five onwards, just 6.00 euros per day. Parking for seven days or more reduces the cost to just 5.00 euros a day. Passengers who are just dropped off at the airport without requiring longer parking can do so for free, provided their vehicle doesn't stay longer than 15 minutes.
Perugia is connected by rail to Florence via the Firenze-Terontola-Perugia line, and to Rome via the Roma-Foligno-Perugia line. The terminal shuttle ACAP-SULGA (tel +39 075 500 9641, booking essential) links Perugia Airport with the railway station in central Perugia. Train tickets can be purchased via www.trenitalia.it in advance.
The bus stop for the airport shuttle is just outside the terminal. Single journeys cost 8.00 euros per person, return tickets cost 14.00 euros per person. The ACAP-SULGA shuttle bus runs reguarly throughout the day, and stops at Perugia railway station as well as stops in between. Perugia is also linked to Foligno via Busitalia line E422. The bus goes from Perugia Airport via Assisi and Bastia to Foligno train station.
Private transfers via Radio Taxi from Assisi or Perugia cost ca 30.00 euros for up to 4 passengers sharing a taxi. Travelling to Foligno by taxi costs between 60.00 and 70.00 euros.
The journey to Foligno takes 46 minutes, travelling to Terni takes one hour and to Orvieto one hour and 11 minutes. Please see www.radiotaxiassisi.it/en/ and www.perugiataxi.it for information about services on offer.
Was your flight delayed or cancelled?
You may be eligible to receive up to 600 EUR compensation per person in your party..
Claim Now!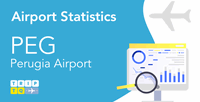 The airport witnessed a remarkable increase of 564.30% compared to July in the pandemic year of 2020. In July 2020, the airport served 10,214 passengers; in July 2023, three years after the pandemic, the number soared to an impressive 67,852 passengers...