Perugia Airport Arrivals (PEG)
Not all flights may be showing. If not available use search above to find your flight by airline, airport or flight number.
Origin
Airline
Flight no.
Scheduled
Est./Actual
Status
No flight arrivals were found at Perugia Airport.
Flight Arrivals at Perugia Airport
Perugia Airport is the gateway to Italy's beautiful Umbria region. The single terminal building contains both Arrivals and Departures areas. Perugia Airport Arrivals are located to the left of the building.
Services offered within the terminal include free WiFi access, a Lost & Found desk, car rental desks, and ATM banking. A bar and restaurant, tobacconist, and a few fashion outlets are also located inside the terminal. There is also a conference room with modern facilities. A ticket office, open every day of the week, sells flight tickets and a Tourist Information Stand helps passengers to find their way around Umbria's tourist attractions, choose hotels and onward travel. The terminal's Arrivals and Departure areas are designed with disabled passengers in mind, but assistance is available, should passengers with mobility problems need help. Public toilets are also located in the Arrivals and Departure areas respectively.
Just outside the terminal are a taxi rank and bus stops. Car parking spaces are within a short walk. There are in total 400 spaces and the car park is open from 6.00 in the morning to 23.00 hours at night. Tickets can be purchased from an automated payment system. At present there are 8 designated car parking spaces for drivers with mobility problems. The first 15 minutes of parking are free, which means family and friends can stop within a short walking distance of the terminal and pick up arrivals. The first full hour of parking costs 1.50 euros.
Internet access is free and unlimited. Passengers arriving at Perugia Airport should select "PEG_Tecnoadsl_FreeWiFi" on their mobile device's screen. A box will appear where passengers can log on as soon as they have typed in their email address and registered for the free service. It is also possible to log on using one's social media account.
Transport Options at Perugia Airport
Car rental companies Avis, Budget, Europcar, Hertz and Sicily by Car have rental stations within the airport. Their desks are located between the Arrivals area and check-in.
Buses stop right outside the terminal, next to the main exit. Busitalia services operate regular services between Perugia, Assisi and Foligno and towns like Bastia Umbra. The ACAP-SULGA express shuttle runs from Perugia Airport to the city of Perugia, about 12 km distance or 19 minutes by bus. In Perugia city center the airport express shuttle stops at the train station. The service needs to be booked in advance with ACAP: tel +39 075 500 9641 or 800 099 661 toll free. Tickets costs 8.00 euros one way, and 14.00 euros return.
Taxi companies Radio Taxi Perugia and Radio Taxi Assisi are just two of the operators providing transfers to and from Perugia Airport. A typical journey for up to 4 passengers sharing a taxi to Perugia city center costs 30.00 euros. Travelling to Assisi by taxi costs the same. A trip to Bastia Umbra costs 20.00 euros. Please see www.perugiataxi.it and www.radiotaxiassisi.it/en/ for more information about services.
Was your flight delayed or cancelled?
You may be eligible to receive up to 600 EUR compensation per person in your party..
Claim Now!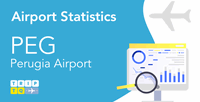 Perugia Airport witnesses a staggering 193% increase in passenger numbers in September 2023 compared to the same month in 2019.