Flights, Arrivals & Departures at Perugia Airport
| Origin | Airline | Flight no. | Scheduled | Est./Actual | Status |
| --- | --- | --- | --- | --- | --- |
| Bucharest (OTP) | Ryanair | FR952 | 07:40 | | Scheduled |
| Cagliari (CAG) | Ryanair | FR1511 | 09:35 | | Scheduled |
| London (STN) | Lauda Europe | FR2497 | 10:10 | 09:54 | Landed |
| Pisa (PSA) | Airstream | AQS312 | 12:11 | | Scheduled |
| Catania (CTA) | Ryanair | FR2705 | 16:45 | | Scheduled |
| Brindisi (BDS) | Ryanair | FR920 | 20:40 | | Scheduled |
| Destination | Airline | Flight no. | Scheduled | Est./Actual | Status |
| --- | --- | --- | --- | --- | --- |
| Bucharest (OTP) | Ryanair | FR953 | 08:05 | | Scheduled |
| Cagliari (CAG) | Ryanair | FR1512 | 10:00 | | Scheduled |
| London (STN) | Lauda Europe | FR2496 | 10:35 | | Scheduled |
| Wolverhampton (QKH) | Flydedicated | HYP906 | 16:00 | | Scheduled |
| Catania (CTA) | Ryanair | FR2706 | 17:10 | | Scheduled |
| Brindisi (BDS) | Ryanair | FR921 | 21:05 | | Scheduled |
Flying To and From Perugia Airport
This page provides information about the destinations that can be reached via Perugia Airport.
Was your flight delayed or cancelled?
You may be eligible to receive up to 600 EUR compensation per person in your party..
Claim Now!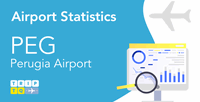 The airport witnessed a remarkable increase of 564.30% compared to July in the pandemic year of 2020. In July 2020, the airport served 10,214 passengers; in July 2023, three years after the pandemic, the number soared to an impressive 67,852 passengers...