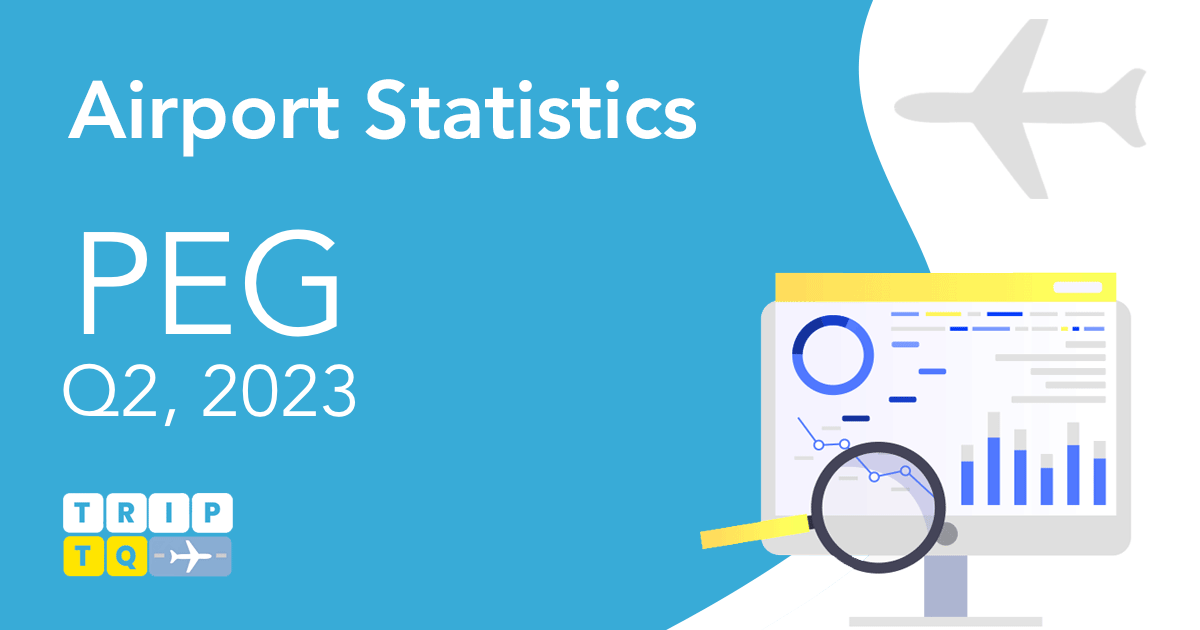 Record-Breaking Q2 Passenger Numbers up 61.82% on Last Year at Perugia Airport
A new Q2 record number of passengers used Perugia Airport this year, up 61.82% on the same quarter last year and a phenomenal 170.51% increase compared to pre-pandemic figures for the same period in 2019 demonstrating a solid recovery from the extensive lockdowns and restrictions during the pandemic.
Comparing Quarter 2 (Q2) 2023 Passenger Statistics at Perugia Airport with the Previous Four Years
Q2 2019: 64,604
Q2 2020: 727 - Change from the same quarter of the previous year: -98.87%
Q2 2021: 21,125 - Change from the same quarter of the previous year: 2805.78%
Q2 2022: 107,994 - Change from the same quarter of the previous year: 411.21%
Q2 2023: 174,761 - Change from the same quarter of the previous year: 61.82%
Passenger utilization of Perugia Airport between Q2 (2019) at 64,604, and Q2 (2023), at 174,761 is 170.51%.
Perugia Airport's Passenger Trends for 2022 and the Past 4 Years
2018: 219,861
2019: 216,508 - Change from the previous year: -1.53%
2020: 75,261 - Change from the previous year: -65.24%
2021: 141,408 - Change from the previous year: 87.89%
2022: 369,222 - Change from the previous year: 161.10%
This work is licensed under a
Creative Commons Attribution 4.0 International License
.
View Full Size
During the second quarter of 2019, Perugia Airport saw 64,604 passengers. The discernible effects of the pandemic become apparent when examining the second quarter of 2020 concerning the same period of the preceding year.
Passengers decreased dramatically in Q2 2020 to 727, which is a decrease of 98.87% from Q2 2019. The decline in activity may be ascribed to the implementation of travel limitations and the subsequent reduction in mobility due to the ongoing epidemic.
There was a recovery in Q2 2021, with passenger numbers increasing to 21,125. This reflects a substantial growth rate of 2805.78% compared to Q2 2020. However, it's important to note that this increase is relative to the low base of Q2 2020's passenger count.
Continuing the recovery trend, Q2 2022 saw further growth in passenger numbers, reaching 107,994. This represents an increase of 411.21% compared to Q2 2021.5. The most recent data, Q2 2023, shows another increase in passenger numbers, reaching 174,761. This indicates a growth rate of 61.82% compared to Q2 2022.
In 2018, the airport recorded 219,861 passengers. In 2019, there was a slight decline in passenger numbers to 216,508, representing a decrease of -1.53% compared to 2018.
The impact of the pandemic became more apparent in 2020, with passenger numbers dropping significantly to 75,261. This represents a decline of -65.24% compared to 2019.
In 2021, there was a recovery as passenger numbers increased to 141,408, marking a growth rate of 87.89% compared to 2020.5. The year 2022 saw substantial growth, with passenger numbers reaching 369,222, representing a growth rate of 161.10% compared to 2021.
Considering the Q2 data and the overall trends, it is evident that Perugia Airport experienced a significant impact from the COVID-19 pandemic, resulting in sharp declines in passenger numbers in 2020.
However, there has been a gradual recovery since then, with Q2 2023 showing positive growth compared to previous years. This indicates a positive airport passenger activity trend and suggests potential future growth.
Are you a travel publisher and would like this information for your site/blog/publication?
Contact us on this form to request Perugia Airport Statistics (Statistics, data and infographics are available for a wide range of airports worldwide - please tell us your requirements using the form)
UNBEATABLE VALUE CAR RENTAL

FREE
Amendments,
FREE
Cancellations,
NO
card fees!

airport_shuttle Need Airport Transfers?
Useful Information about Perugia Airport